Racial Equity and Health
Racial equity and health are deeply intertwined. The history of discrimination in US laws, policies, and practices created barriers to health and wellbeing for Black, Indigenous, and people of color (BIPOC) communities. Examples of systemic and racist practices that impacted health include forced sterilization (Patel, 2017) and the Tuskegee Syphilis Experiment (CDC, 2022). Systemic racism continues to contribute to poor health outcomes for BIPOC communities. Similar racist practices led to barriers in other systems such as access to good education, wide income gaps, and unfair immigration laws. These systems work together to create disparities that still impact health outcomes. Addressing the history and current reality of racism is a public health priority.
To solidify a commitment to this priority, San Mateo County Health signed on to the Healthcare Anchor Network's statement on racism as a public health crisis in June of 2020. The San Mateo County Board of Supervisors also adopted a similar resolution in 2020 to condemn racism and discrimination, and to declare "racism as a public health crisis and [affirm] its commitment to diversity, equity, access, and inclusion."
What is equity?
Equity is the goal of just and fair inclusion into a society in which all can participate, prosper and reach their full potential. To achieve equity, we must create the conditions that allow all residents to succeed and flourish.
- the County Executive Office's Equity Team, adapted from PolicyLink
It is important to apply a racial equity lens to all topics in health. Doing so can create effective strategies to address health disparities. Our Why do we lead with Race? infographic shares commonly used racial equity terms. The infographic also shares steps on how to advance racial equity in San Mateo County.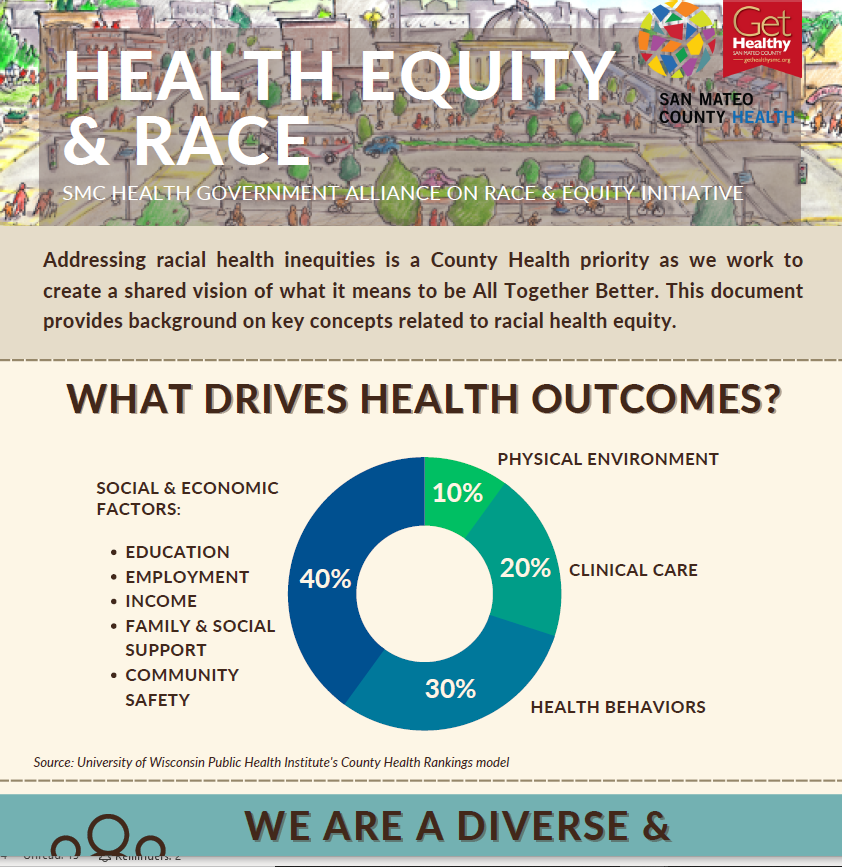 The infographic above shows San Mateo County demographics. It also discusses how the social determinants of health affect County residents and how disparities impact BIPOC communities.
The Four Pillars of Racial and Social Equity
Get Healthy San Mateo County seeks to advance racial health equity through all its work. Equity is part of the long-term mission and vision, and a lens for all efforts. In 2021, the health equity team created the Four Pillars of Racial and Social Equity to help guide this work.
The pillars include:
Data transparency – Using community defined disaggregated data to inform decision making.
Addressing social determinants of racial & social inequities – Identifying and eliminating barriers to access, information, and care. Recognizing that barriers and SDOH create inequitable outcomes.
Community collaboration and partnership – Centering communities and creating authentic partnerships that value thought, co-design, shared decision making and accountability.
Aligned and mutually reinforcing activities – Ensuring collective impact via alignment of activities and ongoing engagement.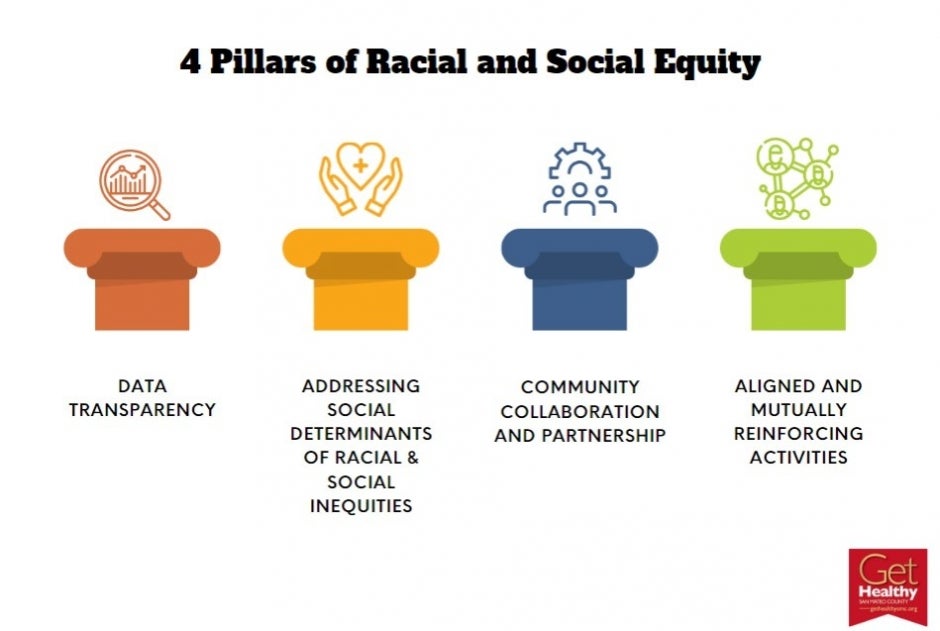 With this guiding framework, each priority area works to advance equity. Explore the subpages to read more about current health equity projects. The resources subpage includes more resources and tools about equity.
If you want to learn more about the Racial Equity and Health efforts in San Mateo County, contact hpp@smcgov.org.