Government Alliance on Race and Equity (GARE)
San Mateo County Health joined the Government Alliance on Race and Equity (GARE) in 2017. GARE is a national group of governments working to support racial equity and opportunities for all. GARE offers a Racial Equity Toolkit for anyone to learn about applying an equity lens to their work.
GARE's framework includes:
Normalizing conversations about race
Organizing to advance equity
Operationalizing systems to achieve equity
The image below shows San Mateo County Health's vision for applying GARE's framework: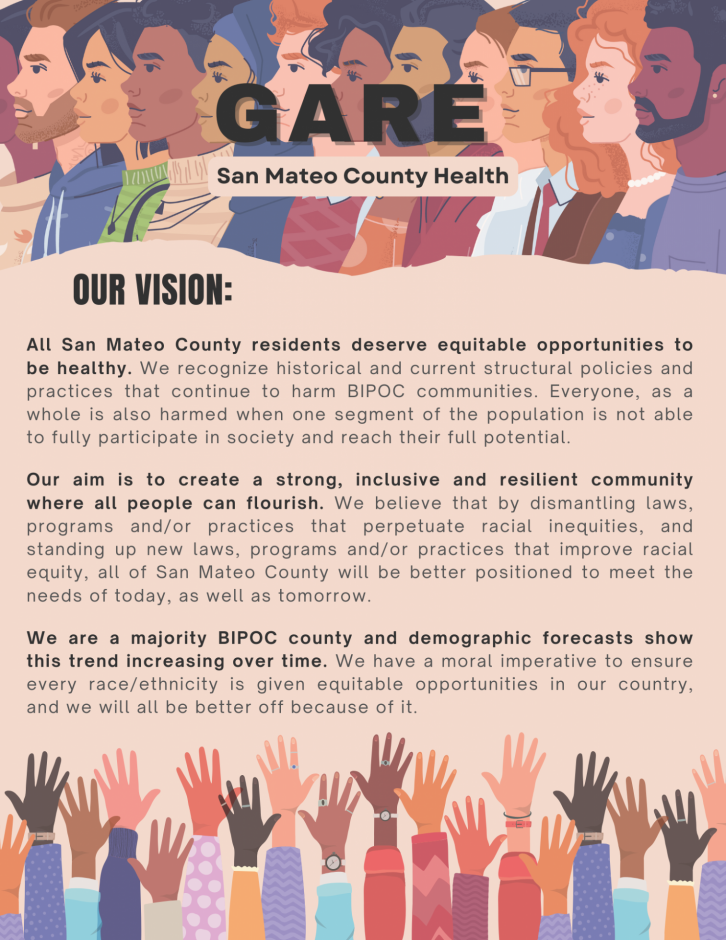 To advance this vision, County Health GARE efforts include:
County Health staff participated in a year-long regional cohort of city and local governmental agencies to learn the core fundamentals of GARE's framework within their jurisdiction and to develop a racial equity action plan. The cohort then participated in additional year of training focusing on practical strategies to further implement and embed equity practices in jurisdictional policies and programs.
Staff developed an internal Race, Equity, and Health training curriculum that explores foundational concepts about race and aims to help normalize conversations about race at work. The training was first offered to all managers and supervisors, then executive leadership, and is now being offered to all line staff and other personnel throughout San Mateo County Health.
Learning and Monitoring:
Staff conducted division-wide surveys for staff to express their understanding, needs, and priorities on racial equity.
Staff created a 21-day Racial Equity Challenge. This is a self-guided foundational learning opportunity for staff to learn about race, power, privilege, and equity. Participants receive daily prompts for 21 days with material to read, watch, listen to, and reflect on
Staff reviewed the racial demographics of our PHPP department. PHPP aims to ensure the demographics reflect the communities it serves. Findings from this review are included in the PHPP Workforce Demographic Report for 2021-2022.
Internal Infrastructure:
Established internal GARE subcommittees:

The Consultation and Conversation Facilitation Subcommittee seeks to develop a team to lead equity conversations and support REAP activities.
The Training and Capacity Building Subcommittee identifies and implements the Race, Equity and Health (REH) trainings.
The Data Subcommittee identifies data collection issues and differences in data collection methods.
The Truth to Power Subcommittee seeks to address the impact of power dynamics in equity efforts.
The Resource Library Subcommittee maintains our library of resources and provides a space for team connection.
Policies, Programs and Strategies:
The Health GARE team and San Mateo County Health leadership established a Racial Equity Action Plan (REAP) to implement racial health equity in County Health. To read more about this plan, visit the REAP subpage.