Supporting Back-to-School Travel with Equity and Empathy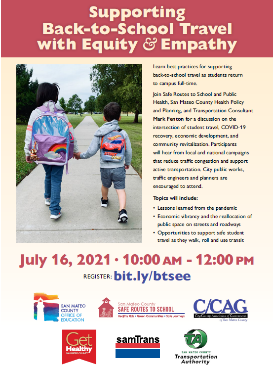 As students return to school this Fall and with increased daily commuting anticipated, it is imperative to create safer streets and walking and biking routes for youth, particularly in areas with the highest rates of pedestrian and bicycle collisions. County Office of Education (SMCOE), transportation consultant Mark Fenton, and Get Healthy San Mateo County hosted a virtual panel discussion with city officials, planners, SamTrans, San Mateo County Transportation Authority, City/County Association of Governments, and the Office of Sustainability on July 16 to share lessons learned and opportunities for enhancing active transportation, community revitalization, and COVID-19 recovery efforts in school communities throughout the county. Key highlights of the webinar were the amazing efforts by the principal of Sunshine Gardens Elementary School in South San Francisco to engage the school community in implementing a successful safe routes to school program, Redwood City and the City of San Mateo repurposing streets to support increased walking and biking during the pandemic, and the call to action to support a multidisciplinary collaborative approach to enhance Safe Routes to Schools efforts beyond the pandemic.
For a recap of this great event, check out the recording, slides, and resources here.