May 2017 Newsletter
The Longevity of Good Health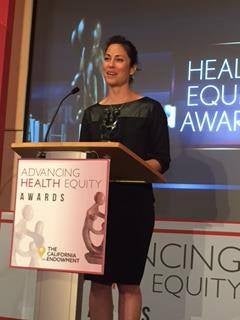 We Won Because of YOU – A Big Thank You to Our Partners
On May 24, the San Mateo County Health System received the exemplary Health Equity Practice Award by The California Endowment for Get Healthy San Mateo County's 2015-2020 strategic plan's strong commitment to advancing health equity in our communities. It is with great honor and it is with tremendous gratitude to our partners that we receive this award. Without our strong partnerships we cannot achieve positive health outcomes for all residents. THANK YOU!
Livability Index Scores Identifies Strengths and Deficiencies
Did you know San Mateo County scored 55 out of 100 on quality of life for all ages compared to other communities across the nation? Check out your city's score on the Association of Retired Persons (AARP) Public Policy Institute's Livability Index, a comprehensive tool which scores communities and neighborhoods across several categories such as housing, neighborhood, transportation, health, and opportunity. How well does your city score?
It's not too late! Comment on Plan Bay Area
The Association of Bay Area Governments (ABAG) and the Metropolitan Transportation Commission (MTC)'s Draft Environmental Impact Report (Draft EIR) for Plan Bay Area 2040 was recently released. The report identifies transportation, air quality, land use and physical development, climate change and greenhouse gases, noise, biological resources, visual resources, cultural resources, public utilities and facilities, hazards, and public services and recreation. If you did not get a chance to attend one of the Plan Bay Area open houses, it's not too late to submit your suggestions. June 1 is the last day to submit a comment.