Income Insecurity and Housing for the Senior Population
The population aged 65 years and older in San Mateo County makes up about 14% of the overall county population but is expected to increase over the next forty years. Population projections show this age group more than doubling by 2060, while showing a decrease in the population under the age of 65 (Chart 1). With these projections in mind, working toward increasing housing options for this age group will support their ability to live long and healthy lives here in San Mateo County.
Housing affordability impacts many residents across San Mateo County, and U.S Census data show renters aged 65 and over are paying unaffordable costs in rent. While 47% of San Mateo County residents overall pay more than 30% of their income to rent, 64% of the population 65 years and over pays this percentage. This age group, which could be seeing retirement, still has about 20% in the labor force, a potential indicator that those still working do not have enough income to cover necessities. Of those who are receiving retirement income (49%), their mean income is $30,833, and of the 87% receiving Social Security income, their mean income is $20,847. With median monthly rent for those aged 65 and over in San Mateo County around $1,434, housing affordability for this group will continue to be an issue, especially as this population group increases and more people are seeking out affordable housing options.[1]
Chart 1: San Mateo County Population Projections for 65 Years and Older, 2010-2060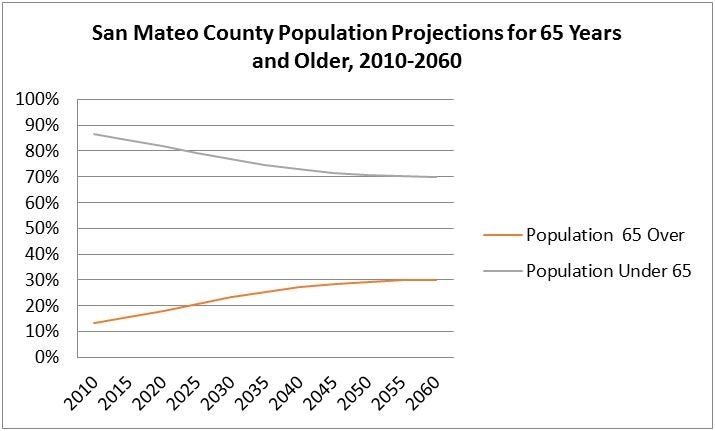 Data Source: State of California Department of Finance, Population Projections, 5-Year Increments. 2010-2060
As longevity increases, affordable housing and other services will be in higher demand, especially for those on fixed-incomes. San Mateo County Health System's Aging and Adult Services (AAS) division provides many services for seniors including In-Home Support Services for assistance with everyday tasks and needs, such as transportation, but there are few support services for housing affordability assistance. To support affordable housing for seniors, nonprofit housing developers and cities are partnering to expand housing options and allow seniors to age in place. Recently, nonprofit BRIDGE housing renovated a 100-unit building for senior housing in Pacifica. This development will add to the housing options available for seniors, but in San Mateo County, a wait-list remains to access these types of affordable units. Those unable to secure affordable housing may be displaced to more affordable areas outside of San Mateo County.
It is especially important for seniors to be able to remain in their communities and have continued access to their health care professionals without being displaced by increasing rent prices. Communities and social networks are important elements for living a long and healthy life, and for aging seniors the presence of a strong social network is linked to better health. Beyond socializing, communities are important for access to healthcare professionals as moving may require a new doctor versus being able to have uninterrupted healthcare with an established relationship. Allowing seniors to age in place is then a health issue the County can support through providing more affordable housing options. Whether through the use of nonprofit developer and city partnerships, or other mechanisms to encourage developers to build smaller, affordable units, there is an opportunity to support the growing population of seniors and help them live long and healthy lives here in San Mateo County.
---
[1] Data Source: U.S. Census Data American Community Survey (ACS), 5-Year Estimates, 2011-2015