Learning in a Healthy and Caring Community
San Mateo County Health (SMC Health) and the San Mateo County Office of Education (SMCOE) have partnered to host a series of webinars to connect directly with communities most impacted by the COVID-19 pandemic. Early in the pandemic we realized the importance of communicating timely information regarding the pandemic with school staff, students, and parents in order to keep schools safe. Sign up to receive our newsletter to learn about future events.
https://www.gethealthysmc.org/signup/lets-keep-touch
Creando un sentido de pertenencia en la escuela con las familias / Creating a sense of belonging in school with families
El 07 de diciembre del 2022
https://www.youtube.com/watch?v=MIwIiQkshsc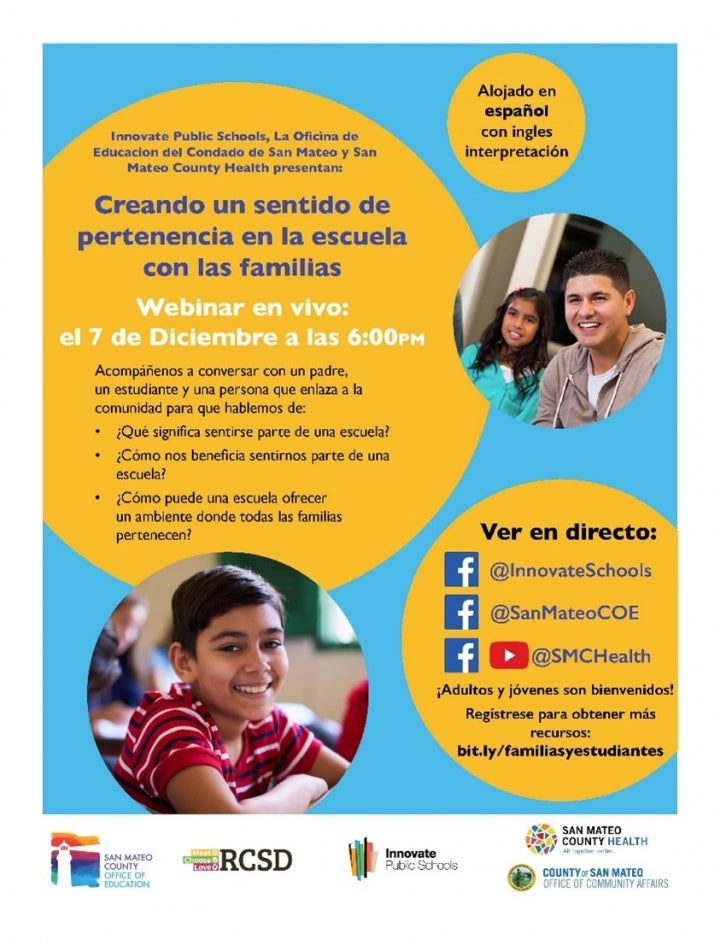 On December 7th Innovate Public Schools in collaboration with San Mateo County Health and the San Mateo County Office of Education presented "Creating a Sense of Belonging in Schools with Families," available in Spanish, only. Hear from a school staff member, parent and student about parent engagement, sense of belonging and grief. Learn about the difficulties some experience in participating and feeling welcomed in the schools, and what you can do to help others feel welcomed and/or learn how it is within your reach to be involved and engaged.
Apoyando el comportamiento positive de los estudiantes / Supporting positive student behavior
El 19 de octubre del 2022
https://www.youtube.com/watch?v=dxWCSK3iEGs
On October 19, the Health Policy and Planning staff partnered with the San Mateo County Office of Education to host the "Supporting Positive Student Behavior" livestream event. The event was livestreamed on multiple social media platforms in Spanish, with English interpretation available. Speakers shared information on how parents and educators can support students through school and especially during difficult times. This support may shape students' experience and impact their level of engagement in school. It's important for students to feel as though someone cares. Ultimately, this could lead to fewer expulsions and suspensions and increase student attendance and performance!
Las comunidades Latinas/hispanas y la salud mental / Latinx/Hispanic communities and mental health
El 12 de mayo del 2022
https://www.youtube.com/watch?v=59p7HEvEKRM
On May 12th, San Mateo County Health co-hosted a live webinar on "Latinx/Hispanic Communities and Mental Health" with a mental health professional, parent leader, and students from a local organization, Casa Círculo Cultural. Each presenter shared their perspective on how they could support student well-being in school especially how to manage and reduce anxiety.
Actualizando la guía de COVID-19 en las escuelas y la salud mental / Changing COVID-19 guidance in schools and mental health
El 23 de marzo del 2022
https://www.youtube.com/watch?v=h1KxYePfglE
On March 23, 2022, SMC Health and SMCOE collaborated to host a webinar in Spanish on the mental health impacts of changing COVID-19 guidance and how parents can support their children as schools begin to implement these changes. Learn strategies to reduce student anxiety and to hear from student at Casa Círculo Cultural who share their experience navigating in-person learning during the pandemic.
COVID-19 Y nuestras escuelas: Vacunas para la juventud / COVID-19 and Schools: Vaccines for Youth
November 4, 2021
https://www.youtube.com/watch?v=RuySu8Nbb7Y
Dr. Yvonne Maldonado, Stanford Professor of Pediatrics and Infectious Diseases, community pediatricians, and local health officers discuss COVID-19 vaccines for youth and answer community questions regarding vaccination.
COVID-19 Safe Schools and Vaccinations for Youth
October 27, 2021
https://www.youtube.com/watch?v=sR34XF5WOXA
To further help inform parents and answer their questions, SMCOE hosted a webinar with San Mateo County Health yesterday addressing the latest COVID-19 community trends, strategies for safe schools, and vaccination updates.