Equity Through Art: Black, Indigenous, Youth of Color: Experiences in San Mateo County and Aspirations for the Future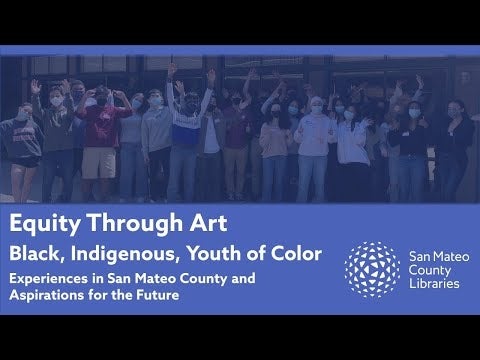 The future of San Mateo County is BIPOC youth. Demographic changes in our county, in California, and across the nation trend towards continued growth in our communities of color and increasing majorities of BIPOC. This is a beautiful trend that deepens the existing diversity of our already-diverse county, with 64% identifying as non-White. BIPOC youth already hold leadership roles across the county, including on the County Youth Commission where they bring the youth perspective and voice to decision-makers on the County Board of Supervisors.
This webinar panel is organized by a subcommittee of the County Youth Commission, featuring several youth from across the county sharing their experiences and aspirations through stories and other art forms. Hearing directly from diverse youth leaders is critical for the county's understanding of who we are, as well as who we can be in the future.
This webinar is part of the Equity through Art Webinar Series, a partnership between the County Library, Health BHRS Office of Diversity and Equity, and the Chief Equity Officer at the County of San Mateo. The series takes us on a journey to understand the experiences of Black, Indigenous, Communities of Color, through their voices and stories.