SMC Pride 2022—STILL HERE, STILL PROUD!
Staff Perspective by Nupoor Kulkarni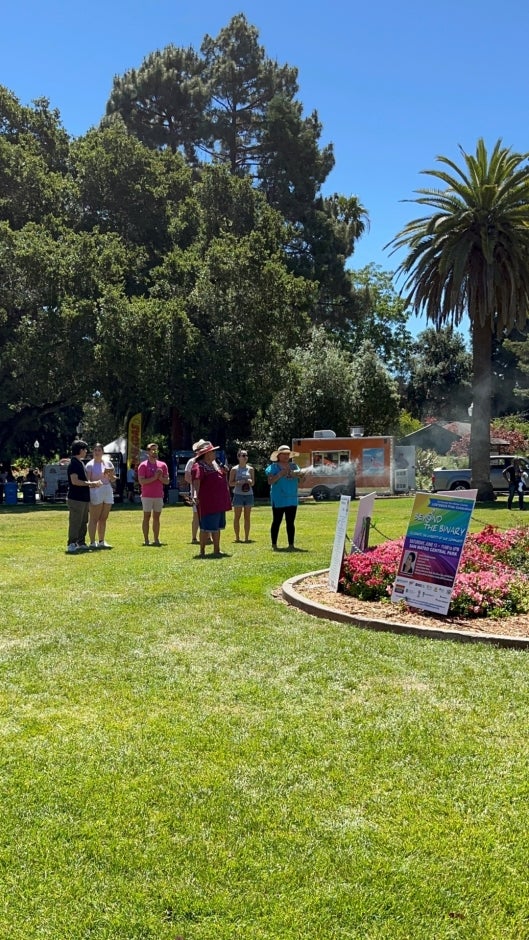 From Indigenous land ceremonies to COVID test kit distribution, Inclusive Pride flags flying and community partners advocating for LGBTQ+ folks of all ages, SMC Pride 2022 is care in action. San Mateo County (SMC) Pride Celebration is hosted by our SMC BHRS Pride Initiative who partners with numerous agencies, including the SMC Pride Center, SMC LGBTQ Commission, Outlet, SMC Fair, and many others throughout the years to bring our communities this special event.
The day begins with an offering to the land. A reminder, to community. Our Native and Indigenous People's Initiative (NIPI), a Health Equity Initiative of the Office of Diversity and Equity with BHRS, lead us in ceremony, connecting us to land and place as kin, and honoring the stages of life—children, adolescents, adults, and ancestors—all integral parts of community.
At San Mateo County's Pride Festival on Saturday, June 11, 2022, the Indigenous ceremony is urgent and necessary as queer and trans lives are targeted by at least 200 anti-trans bills across the nation this year alone. Silvia Salcedo and Gloria Gutierrez of NIPI gather community to the center of San Mateo Central Park in a circle where no one's back is to another, all equal as relations to each other and this land. Burning sage cleanses the air, Silvia offers a final chant, "Ometeotl!", to remind us of the two energies—masculine and feminine—that exist in everything that is life, the Inclusive Pride flag is raised, and the festivities commence.
—
Queer communities are still experiencing systemic harm, and we see this manifest in poorer health outcomes. Locally, our SMC Pride Center conducted a COVID-19 impact report for our LGBTQ+ community and found that 85% of respondents reported negative impacts on emotional or mental health. Additionally, they were 6.7 times more likely to become unemployed, and LGBTQ+ residents with disabilities were 7.3 times more likely to move into unsafe or unstable housing. With inequities multiplied for queer folks at the intersections of race, socioeconomic status and more, this festival illuminated efforts to ameliorate inequities and foster belonging for SMC LGBTQ+ residents.
—
This festival was community care in action. From community organizations, local art vendors and food trucks to Behavioral Health and Recovery Services' Health Equity Initiative groups and the County LGBTQ+ commission and more, our partners showed up on this sunny day to make sure our queer and gender-expansive community know they matter.
Youth ran around with gender pronoun buttons and colorful, sequined fashion, waving trans pride flags and expressing their truths. The Ombudsman Services of San Mateo County advocated for quality of life for older or disabled adults in Residential Care, and Rape Trauma Services had "take what you need" cards and a message board for attendees to write affirmations to survivors of intimate partner violence.
The Bay Area Community Health Advisory Council provided COVID-19 test kits and masks because COVID-19 is still here and is a community concern. Pink Spots highlighted LGBTQ-owned businesses in the Bay Area, and the San Mateo County Health Mobile Clinic drove up with healthcare providers offering systems navigation and services to attendees. Top it all off with incredible performances from drag queen, Jackie Layshun, music by DJ China G, empanadas, ice cream, and moms giving free hugs, SMC Pride made my heart sing.
As a staff member who identifies as queer, strives to practice anti-racism and anti-oppression every day, and dreams of systems that honor relations with community and our planet, SMC Pride was a salve for my soul. As the festival title reverberates on the 10th anniversary of SMC Pride, "Still Here, Still Proud." Happy Pride month!
Issue of correction to this article on November 7, 2022:
This article has been corrected with the correct spelling of Silvia Salcedo's name, the correct linguistic spelling of the Indigenous chant and explanation of its significance, with an update to the medicinal Indigenous use of sage to cleanse the air, and to clarify the organizations responsible for hosting the event.