Institutionalizing Equity at the State Level
Staff Perspective by Nupoor Kulkarni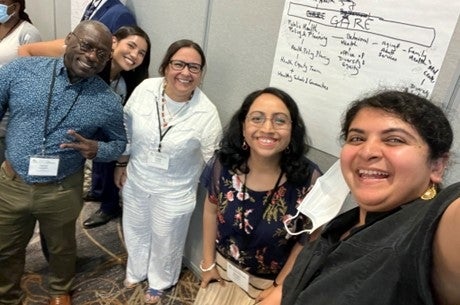 On September 6-7, 2023, our Health Equity Team (HET), interim Health Policy and Planning (HPP) manager, Gladys Balmas, and Deputy Health Officer, Dr. Curtis Chan, attended the 2023 Statewide Local Health Jurisdiction (LHJ) Equity Convening. The event was hosted by the California Department of Public Health's (CDPH) Office of Health Equity (OHE). At the convening, CDPH expressed its commitment to equity as a core value and function of the state health department in a variety of ways:
Modeling equity through requirements for equity objectives and/or hiring dedicated equity staff in grant requirements,
Promoting alignment by establishing equity officers across all state health agencies,
Establishing a permanent OHE structure with a growing number of staff positions, and
Exploring flexibility to support equity activities within traditional categorically funded programs
OHE also launched the State Health Equity Plan (SHEP) to embed equity into state and local government, and provides The Equity Portal with strategies, toolkits, and resources to enhance equity efforts across the state.
The Health Equity Team was established through funding from the California Equitable Recovery Initiative (CERI) grant administered by OHE. Over the last two years, we have established staff dedicated to equity infrastructure, conducted numerous virtual and in-person staff training on racism as a root cause of health inequities, and uplifted community voices and needs through the Community Collaboration Process (CCP). A culmination of these activities is the development of a division-wide Equity Plan for Public Health Policy and Planning (PHPP). Representatives from all ten (10) PHPP programs have committed to co-develop this plan. The goal of these efforts for the division is to center equity in how we show up in community, the services we provide, and how we work together within the division.
The Equity Plan is informed by input from PHPP staff, leadership, and the community via CCP. Currently, PHPP representatives are identifying program-specific internal organizational and external community-centered equity objectives as well as appropriate metrics to measure progress. The state convening fuels our ongoing commitment to equity, and our team is excited to apply learnings from the various sessions. We are implementing the following:
Applying power analyses to be more inclusive of historically oppressed groups,
Developing objectives that are not only measurable, but are inclusive and center those with the greatest needs to have opportunities for equitable impact,
Improving our use of narrative and storytelling to better communicate the impact of our equity efforts, and
Strengthening collaborations with cross-sectoral partners, neighboring local health jurisdictions, and OHE to advance equity as a collaborative, unified value.
For more information about the PHPP Equity Plan, contact Nupoor at nkulkarni@smcgov.org.