Move, Sip and Munch in the Wind!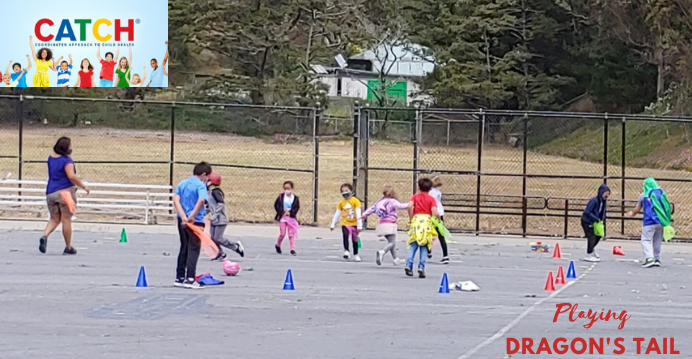 San Mateo County Office of Education, CalFresh Healthy Living and Silicon Valley Bicycle Coalition successfully hosted a Safe Routes to School event at JFK Elementary School in Daly City on May 26, 2021. About 50 children (grades 1-5) learned bicycle and road safety tips through storytime, which featured stories about bicyclist and pedestrian safety and a hands-on skills-building bicycle clinic known as a bike rodeo.
They also picked ideas on healthy snacks and beverages as they replenished with several cups of nourishing spa water and mandarins between their activities. It was a warm and windy afternoon, and the students and staff greatly appreciated the strawberry-lemon-mint infused water and juicy fruits to keep them going. Get Healthy San Mateo County's Soda poster was offered to the Principal, who promptly placed it in the school cafeteria to encourage students to reduce their consumption of sugar-sweetened beverages.
The younger kids also spent time playing Hit the Track, Dragon's Tail, Elbow Tag and other aerobic games, practicing various skills like throwing, balancing, running, and dodging all while having fun! This physical activity was part of the P.E. CATCH (Coordinated Approach to Child Health) curriculum. Kids who are physically active have better classroom behaviors and attendance, improved memory and concentration, and tend to get better grades than kids who are not physically active. Contact Gloria at gcgonzalez@smcgov.org or call (650) 573-3665 if your school is interested in implementing the CATCH curriculum.