EMS Corps Academy 2021 Fall Cohort Highlights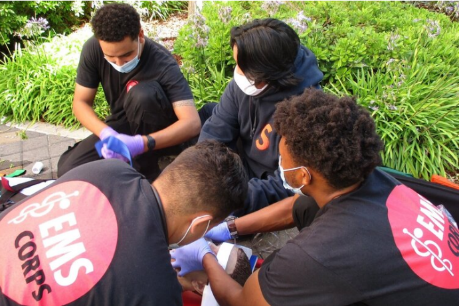 We are pleased to share some exciting updates from this year's fall cohort, as students gear up for their graduation in January-February 2022!
Our cohort of four students this year provided community service while learning how to take blood pressure and conduct health screenings for local community residents during the Fall Prevention Week event for seniors at the Oakland Zoo.
They've completed their certification for treating different blood traumas, congrats team!
December marks the beginning of the ride-along trainings where students spend 10-12 hours on an ambulance and administer care to 10 patients. This month has also involved a multi-casualty incident where they've learned to respond to real life trauma scenarios.
Our alum Antonio Arellano has returned to give back to his community as a volunteer skills instructor during the fall cohort class and hopes to start a San Mateo County EMS Corps Alumni Association with other alumni!
To learn more about the nationally renowned EMS Corps Academy, please click here.