Congrats SMC EMS Corps Winter 2021 Cohort Graduates and Looking Forward to the Next Co-ed Cohort in Spring 2022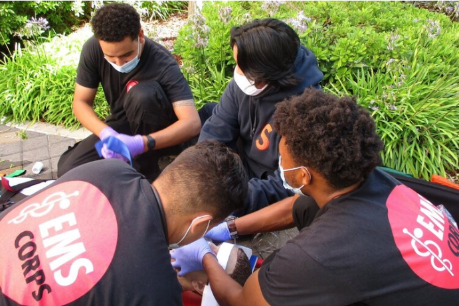 We are excited to announce the following EMS Corps Winter 2021 graduates from San Mateo County:
Lia Joachim, San Mateo
Brandon Tang, Daly City
Moises Serrano Juarez, Redwood City
Georgina Trout, Menlo Park
Thank you for all your hard work and for giving back to your communities by pursuing a career in the health field!
We'd also like to send appreciation to everyone who supported our county's EMS Corps Recruitment efforts for the Spring 2022 Cohort! We are happy to announce that we've received applications from young adults living throughout the county including San Mateo, East Palo Alto, San Bruno, Redwood City, and Daly City. The EMS Corps Academy is a nationally recognized job training program serving young people with barriers to employment and education, to become certified Emergency Medical Technicians. Stay tuned for more information on the Spring 2022 cohort soon!