CCCS Neighborhoods
Background
Data tell us that the neighborhoods where children and their families live in San Mateo County have an impact on their success and well-being. Children and youth from communities that have been marginalized have greater representation in high-intensity county systems such as juvenile probation, child welfare and substance abuse programs.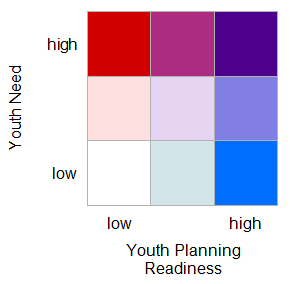 Two factors were used to identify areas for community planning: a Youth Need Index, shown in red, and a Youth Planning Readiness Index, shown in blue. The colors are darker in higher scoring areas, and areas with high scores for both are shown in purple. These are the sites of the CCCS planning process. Click the menu to view city boundaries. View the Youth Need Index and Methods, Limitations, and References for more information.
Neighborhoods in North Fair Oaks, East Palo Alto, South San Francisco and Daly City were identified because of both high youth need and sufficient social infrastructure to support deep community engagement and participation.