Building Racial Equity in County Health Web Forum #3
Web Forum, December 17, 2020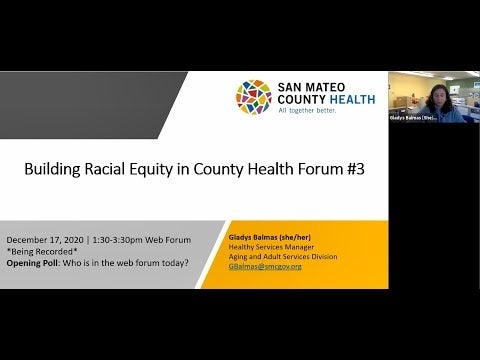 As a follow up to the July 15th and September 10th racial equity web forums, San Mateo County (SMC) Health Public Health, Policy and Planning (PHPP), Behavioral Health and Recovery Services' (BHRS) Office of Diversity and Equity (ODE), and the SMC Health Government Alliance for Racial Equity (GARE) cross-divisional team hosted its third racial equity web forum on December 17, 2020, titled Building Racial Equity in County Health. The purpose of this session was to 1) discuss the key themes and findings that have surfaced from staff and partner feedback gathered on advancing racial equity via the racial equity forums, zoom polls, and surveys implemented in the past 5 months, and 2) discuss the process for updating the County Health Racial Equity Action Plan. The two documents that provide an overview of this information are listed below. Please also refer to posts on the July 15th and September 10th forums for detailed analyses of the data that informed our key themes and findings.
Participants also had an opportunity to engage in a Q&A section with the Health Executive Council Equity Subcommittee members, Louise Rogers, Srija Srinivasan, Scott Gilman, Lizelle Lirio de Luna, and Sandra Santa-Mora.
Ways to Get Involved and Connect to Resources
If you would like to get involved in the GARE work, please email the subcommittee chair below that best matches your interest and areas you can contribute to.
We have also started a list of resources on racial equity for individual learning.
If you are interested in arranging a racial equity 101 training for a County Health board or commission, please reach out to Shireen Malekafzali, smalekafzali@smcgov.org with a copy to Kathy Harnack, kharnack@smcgov.org.
If you are interested in getting involved with Health Equity Initiatives (HEIs), please see this link here for a list of HEIs meetings and contact information.
If you have any questions or would like to suggest additional racial equity resources or ideas, please email hpp@smcgov.org.
List of event materials: