2016 RFP Overview and Sample Application PDF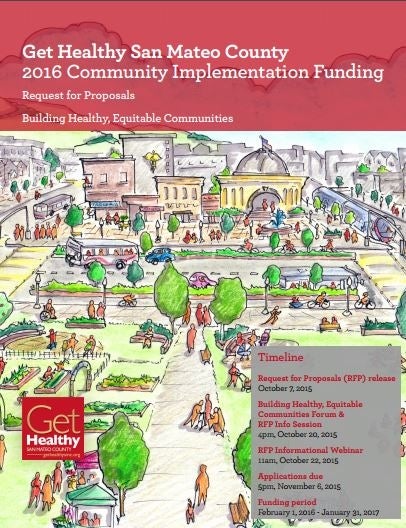 Every year, GHSMC awards funding to community and faith-based organizations, non-profits, public agencies, and schools for placed-based primary prevention and health equity efforts. The focus of this funding is to improve the health of San Mateo County residents by building, healthy, equitable communities where "all residents, regardless of income, race/ethnicity, age, ability, immigration status, sexual orientation, or gender have the opportunity to reach their full potential" – the GHSMC vision.
Project proposals must meet all of the following requirements:  
Address one of the four GHSMC priority areas.
Benefit at least one of the following priority populations:

Low-income communities that live in neighborhoods with limited access to health promoting opportunities such as places to safely walk and bike, parks and open spaces, affordable housing, healthy foods, easily accessible public transportation and employment. Communities of color that live in neighborhoods with limited opportunities to be healthy and/or have the highest rates of preventable health issues in San Mateo County.
Older adults, children and people with disabilities who face very specific challenges to healthful living including accessing daily needs, services, healthy foods, transportation, housing, and everyday physical activity.

Align with the GHSMC place-based primary prevention and health equity framework.  
Contribute to or help achieve the stated objectives across the four priority areas.