Phoenix Garden Request for Proposals (RFP)
Maintenance and Volunteer Management Services for the Phoenix Therapeutic and Educational, Permaculture Garden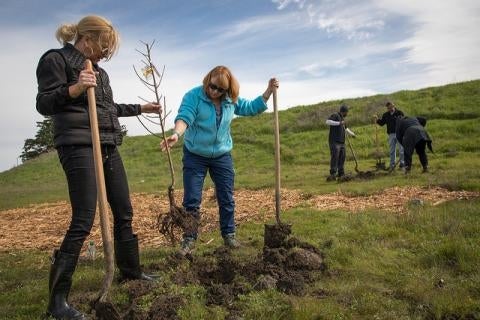 The Phoenix Garden is a Permaculture Garden located adjacent to the San Mateo County Youth Services Center. The garden will be home to various learning labs, educational and treatment programs, open nature areas and public meeting spaces.

The overarching goal of the Phoenix Garden is to transform the site into a resilient and regenerative permaculture oasis serving youth and families participating in court-ordered probation department programs, the foster care system, and families in need of mental health services.

The Phoenix Garden volunteer coordinator will be responsible for recruiting, training, and managing individual, corporate, and community-based volunteers in support of both building out and programming for the Phoenix Garden. The coordinator will coordinate all activities with the Phoenix Garden steering committee.
Responses should be submitted via the Public Purchase website. In order to view the RFP and submit a proposal, you must first create an account with Public Purchase.
Click here to view the San Mateo County Phoenix Garden RFP. Proposals are due August 3, 2020 before 1:00 pm PT.
Pre-Proposer's Meeting
Tuesday, July 21, 2020 from 1pm
Join Microsoft Teams Meeting
+1 628-212-0105
Conference ID: 902 480 4#
Request for Proposals Open and Close Date
RFP Release: July 23, 2020 on Public Purchase: http://www.publicpurchase.com/.
Proposal due: August 3, 2020 before 1:00pm PT