February 2015 Newsletter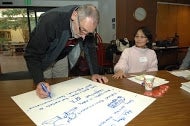 Great feedback and more to come
It has been great to hear from so many of you at our past two Visioning Workshops! We appreciate your joining us to develop a collective vision for healthy, equitable communities to help plan how we can create a healthier San Mateo County for everyone. Get inspired and see how our past workshop participants envisioned a healthy place!
We have three workshops left! If you haven't participated yet, we hope you'll come to one of our upcoming workshops and add your unique perspective to the mix:
Thursday, February 26, 6-8pm
Silicon Valley Community Foundation, 1300 S. El Camino Real, San Mateo
Tuesday, March 3, 6-8pm
Historic Train Depot, 110 Higgins Canyon Road, Half Moon Bay
Wednesday, March 4, 3-5pm
San Mateo Main Library, Oak Room, 55 West 3rd Avenue, San Mateo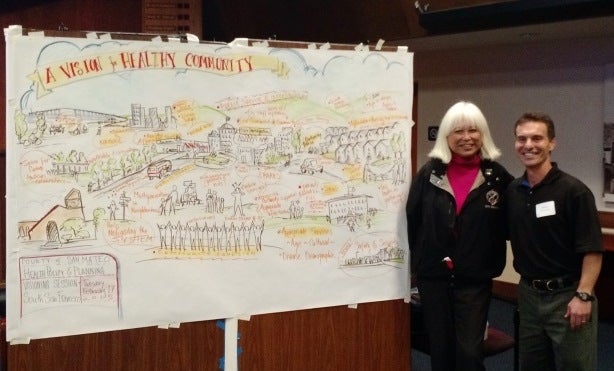 Be sure to let us know if you need translation or childcare when you RSVP. Also, please share the workshop announcement with your networks!
Join our team this summer!
We are seeking two dedicated and hardworking Interns who are highly motivated, team players, responsible, and creative. Each Intern will focus on a specific project: Get Healthy Case Studies or Health Communities Policy, Systems, and Environments Assessments. Know someone who's interested and want to apply? Learn more here and be sure to get those applications in by March 6!
Healthy Schools
See you at tomorrow's School Wellness Summit
We hope you've already RSVPed and plan to attend tomorrow's Summit! Join educators, parents, and school administrators and leave with tools and strategies to implement school wellness and healthy changes in your school. Thanks to everyone who's signed up – we still have a few spots left (with lunch included!).
Showing us what youth are made of
Earlier this month, the Youth Commission organized youth from across the county to come together and empower young people to pursue their passions at their Youth Conference, put on by youth – for youth. Elected officials Supervisor Carole Groom, Senator Jerry Hill, Assemblymember Richard Gordon, and Assemblymember Kevin Mullin shared their perspectives on the importance of engagement and voting, as well as the latest on college tuition increases and climate change. Congratulations to our young leaders for another inspiring event!
Healthy Places
When there's a will there's a way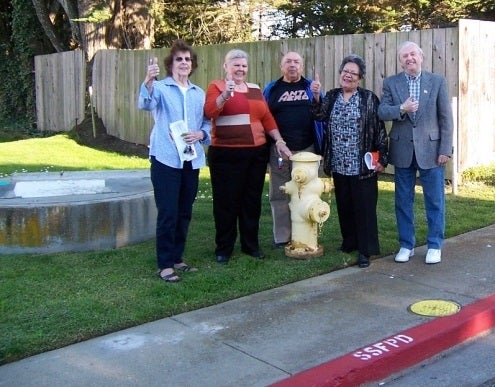 The newly minted Seniors Advocacy Team has already made great strides towards improving the health and safety of older adults in South San Francisco. Upon completion of the Healthy Communities Advocacy Training led by Stanford's Prevention Research Center, the group identified street lighting, cross walk accessibility, and transportation as critical issues for their health and wellbeing. The Get Healthy team connected the new advocates to City and SamTrans officials and the advocates shared their needs. The City of South San Francisco addressed one of their issues by immediately by painting a local problematic hotspot (the curb seen in the photo) to improve safety and walkways in the area around the Rotary Plaza – fixed just five days after the team's first meeting with the City! The team also provided feedback to SamTrans officials on the City's new shuttle program and will continue to engage on this issue in the coming months to improve shuttle service and routes. An engaged and empowered group of residents can make all the difference!
"No loss of life is acceptable…
…we can do better…," said San Mateo Councilmember Joe Goethals. Kudos to the City of San Mateo for taking a huge step forwards towards more innovative, healthy street design that promotes safety, economic vitality, physical activity, and environmental quality! San Mateo's recently adopted Sustainable Streets Plan also replaces an outdated performance measure for streets (Level of Service) for one that focuses on minimizing driving and maximizing opportunities for people to move around. Following San Francisco and Los Angeles, the City is the third in the state to adopt Vision Zero, a policy of zero tolerance for pedestrian and bicycle deaths. Read more here!
Transform's Let's Get Moving Summit on Transit and Healthy Communities
How can we create more walkable, bikeable, transit-rich communities that are great for health? Hear directly from leaders in transit, health, and housing on how we can improve transportation and make communities safer, healthier, and more affordable for everyone. The Get Healthy team will be featured on the plenary panel to share a health and equity perspective and hold a panel focused on supporting local urban planning policies to ensure housing and community stability as community improvements and changes are made. Register here for the March 7 event from 9am to 4pm.
Plan ahead for good planning
Mark your calendars for March 16 from 6-8pm (location TBD) for an innovative presentation on how we can bring more innovative designs to our streets! Hear directly from city leadership in Menlo Park and Redwood City, and the Town of Atherton on challenges and opportunities in their area, and learn about urban design guidelines and next steps for the cities and the region. The event will feature Jeff Tumlin, an inspirational speaker and international expert on innovative street design. We'll have more information on our website as soon as we have a location firmed up!
Our version of the Oscars
Smart Growth America has revealed the top street policies of 2014! These are policies that serve as models for how to collaboratively plan for safer streets for all users – of all ages. Bring some inspiration to your block and view their webinar and materials here!
Healthy Food
Here's something to munch on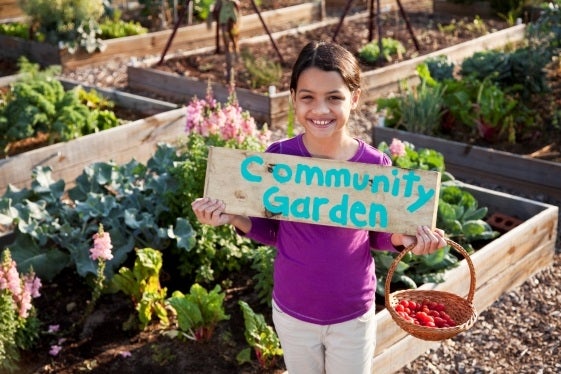 Food gardens make healthy and affordable food available to everyone. Whether it's in a secured public community garden or your own backyard, food gardens not only produce tasty and high quality food but also provide moderate physical activity, reduce stress and fatigue, beautify communities, reduce crime, raise property values, and bring neighbors together. If you're not part of the 26% of us that grow and eat food from our own backyard, there are more than 15 community gardens to choose from. Find your closest community garden here. If you're interested in creating a community garden or promoting urban agriculture in your community, contact us so we can help you make healthy and locally grown food available to everyone in San Mateo County.
They're putting money where your mouth is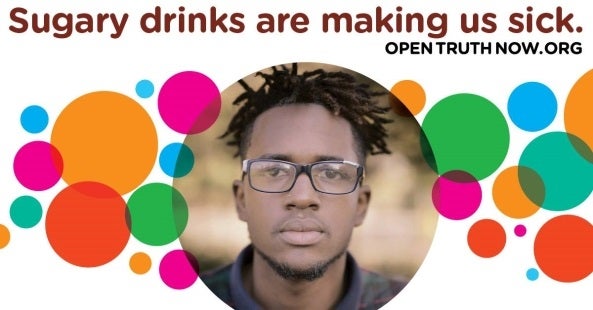 Sugar consumption has tripled, and with it obesity, diabetes, heart disease and cancer have skyrocketed. This didn't happen out of nowhere. Did you know that one 12-ounce soda has more than the daily max of sugar for adults and 3 times the daily max of sugar for kids? See how companies are disproportionately targeting minority and low income kids and teens with unhealthy food and beverage TV ads. www.opentruthnow.org/how-they-target-us