April 2017 Newsletter
The Beginnings of Good Health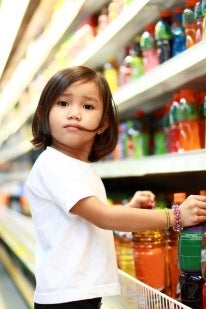 Daly City Council Exploring Mechanisms to Lower the Consumption of Sugary Drinks Among Children
The Daly City Council is exploring the adoption of a Healthy Default Beverages in Kids' Meals ordinance. This type of policy has shown to lower the consumption of sugar-sweetened beverages. The City could require restaurants that serve combination kid's meals to replace sugary beverages with healthier options such as water and low-fat milk as the default offered with children's meals. Other beverages would remain available upon request at no additional cost.

The cities of Davis, Stockton and Perris have already adopted similar measures. Also, few large private companies have already adopted this practice such as the Disney Corporation that, in 2008, reported that at its American resorts 68 percent of beverage orders included the default healthier option. Read more about this ordinance.
Youth Commission Applications Open for Next School Year
The San Mateo County Youth Commission is now accepting applications for the 2017-2018 term! Join a diverse group of youth to represent young people in San Mateo County. Offer youth perspective on important issues facing your community and work directly with the Board of Supervisors and County departments as a leader and voice for youth in the county! Check out the details of this exciting opportunity and share with youth partners and your networks. Application deadline is May 26th. Questions? Email Adam Wilson – awilson@yli.org

Plan Bay Area Open Houses
On May 4th join residents from across the Bay Area for a public open house to discuss how to plan for our region's future growth. After two years of public discussion and technical work, the draft Plan Bay Area 2040 is out for public comment. Lend your voice to the discussion on future actions and transportation funding priorities that the Bay Area can take to encourage more efficient and effective transportation and an adequate housing supply while meeting goals to protect the environment. The Metropolitan Transportation Commission (MTC) and the Association of Bay Area Governments (ABAG) want to hear from you. Please consider attending a workshop, where you can view displays, ask questions and offer comments on Draft Plan Bay Area 2040. Can't make May 4? Check out the listing for other meeting dates and locations here.
Spring has sprung! Take a Hike
Kaiser Permanente and the San Mateo County Parks department have partnered for 2017 to share tips on staying active, avoiding injuries to encourage Bay Area residents to explore parks while improving their mental and physical health. Check out the schedule today!