Creating bigger gains by investing early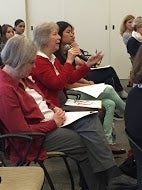 We had a great discussion at our May School Wellness Alliance meeting on the importance of early childhood education. Participants viewed The Raising of America – the new documentary from the creators of Unnatural Causes that explores how a strong start for all our kids can create a healthier country for everyone. After the viewing, participants learned about innovative approaches from First 5, the County Office of Education, and UC Berkeley Department of Public Health, and discussed local and statewide policy opportunities.
In case you missed it, we're working with the County Office of Education to show the documentary throughout the county. More on the screening dates soon – and be sure to contact us if you want to check out our copy of the documentary.