Choose Healthy Drinks Awareness Campaign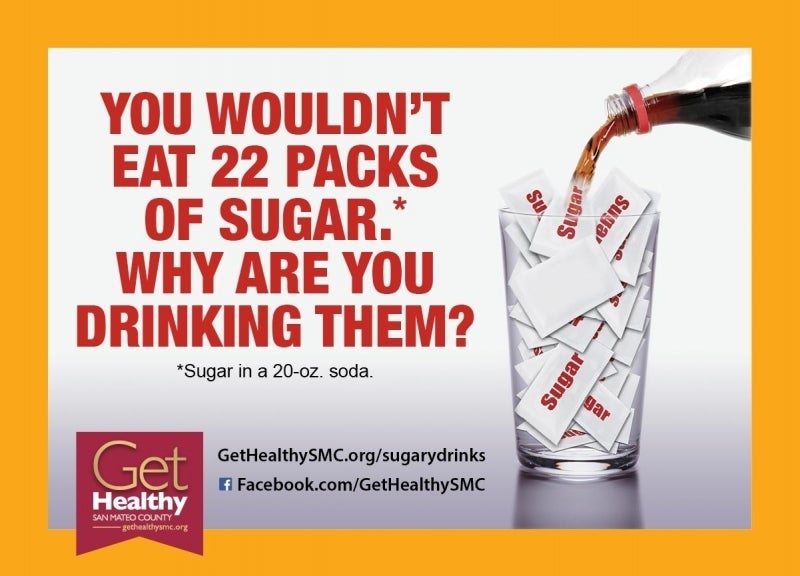 In late January 2014, Get Healthy San Mateo County launched a Choose Healthy Drinks awareness campaign. The campaign is focused on South San Francisco, San Bruno and Daly City — the three San Mateo County cities with the highest rates of obesity at 47%, 43%, and 39% respectively. San Mateo County joins our neighbors in San Francisco, Sonoma and Alameda Counties in this regional effort to educate our community about the harmful effects of sugar-sweetened beverages.
Look for these messages in Bart stations, on billboards and at corner stores!
Did you know?
What you can do today
What you can do to get rid of sugary drinks
Participate in a training to become a "sugar savvy" trainer, and teach others about the sugar content of beverages
Advocate for the removal of sugary drinks in vending machines
Encourage healthy beverage options such as water or tea at meetings, events, your child's classroom and daycare, etc.
Support policies to eliminate sugary drinks from kids' meals
Encourage your city to partner with supermarkets and post Rethink Your Drink information in their markets
Support state and national regulations that restrict marketing sugary drinks to children on television, and in schools or camps
Adopt a wellness policy in your workplace that encourages replacing sugary drinks with healthy drinks
Ask your city to prohibit the sale of sugary drinks within a certain distance from schools, rec centers and other places where kids congregate