San Mateo school summit spotlights ways to boost youth well-being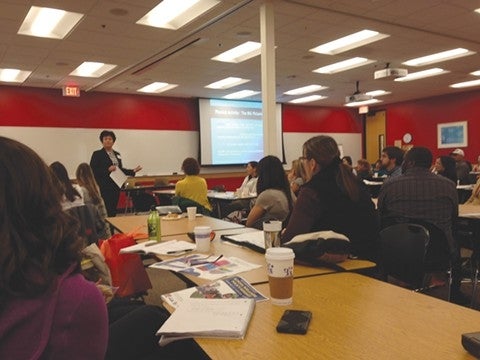 V.ALEXANDRA DE F. SZOENYI/SPECIAL TO THE S.F. EXAMINER
Several county agencies came together to talk about the health of kids.
The San Mateo County Office of Education and Get Healthy San Mateo County recently hosted the annual School Wellness Policy Summit in Redwood City to highlight various efforts to improve youth health and well-being.
The daylong event was created to allow experts to address school health index and wellness policies for district personnel, site administrators, teachers and outside health agencies. The programs focus on the importance of physical activity and aim to create healthy school environments where every student can thrive.
Speakers included San Mateo County Superintendent of Schools Anne E. Campbell, Community Health Planner for the San Mateo County Health System Justin Watkins and Dianne Wilson-Graham, executive director of the California Physical Education-Health Project. The topics of discussion ranged from physical education and nutrition to adolescent brain development and drug use.
"Get Healthy and our community partners focused this year's annual School Wellness Summit on implementing strong school wellness policies and strategies across every school district in San Mateo County," said Shireen Malekafzali, senior manager for policy, planning and equity for the Health System. "We discussed strategies to create healthier schools, whether it's providing nutritious meals, increasing physical activity or supporting staff awareness, and how to best carry out school wellness policies that may be in place but not put fully into action."
Event organizers noted that in an age when childhood obesity is on the rise and a nonactive lifestyle is considered commonplace, schools are encouraged to create effective wellness policies where youth can live healthy lives inside and outside of the classroom. According to the Centers for Disease Control and Prevention, childhood obesity has more than doubled in children and quadrupled in adolescents in the past 30 years.
"With technology, we're really in our heads," said Malekafzali, adding that students are two times more likely to be sedentary at home if they are at school. "Schools are the chance we have."
Another challenge is the disparity amongst communities in San Mateo County, organizers said.
"The complexity of our neighborhoods, schools and other environments have literally designed physical activity out of our lives," Malekafzali explained. "This inequitable distribution of opportunities make it far more difficult for some students to be healthier than others. For example, when kids have safe opportunities to walk to school each day, their parents don't have to worry about fitting an additional activity into their busy day."
She hopes that local schools can help bridge the gap. "The more we can do to build awareness and support school communities to create and implement these opportunities, the healthier our children will be."
Some attendees said the summit proved to be beneficial for increasing awareness on ways to enhance students' well-being.
"The stronger the choir, the louder the message," Pescadero School Community Developer Stephanie Raugust, said about her decision to attend a summit that might be seen as "preaching to the choir." "Motivation and reminders," as well as the opportunity to network with other school employees allowed her to assess her own effectiveness.
The event, however, spotlighted how schools are only one part of the puzzle. Keynote speaker Wilson-Graham stressed that community programs and parents must also be involved in improving children's health.
"Parents make it real," she noted. If schools, programs and parents work together in educating adolescents and encouraging healthy behavior, she says, "it starts to get clear for them."
Malekafzali agrees.
"We all have a role to ensure that all schools — from our wealthiest to those with limited resources — have what they need to create a healthy environment for all students," Malekafzali said. "We know from research that healthy kids learn better. We owe that to our students who are the future of San Mateo County."