EMT Pathways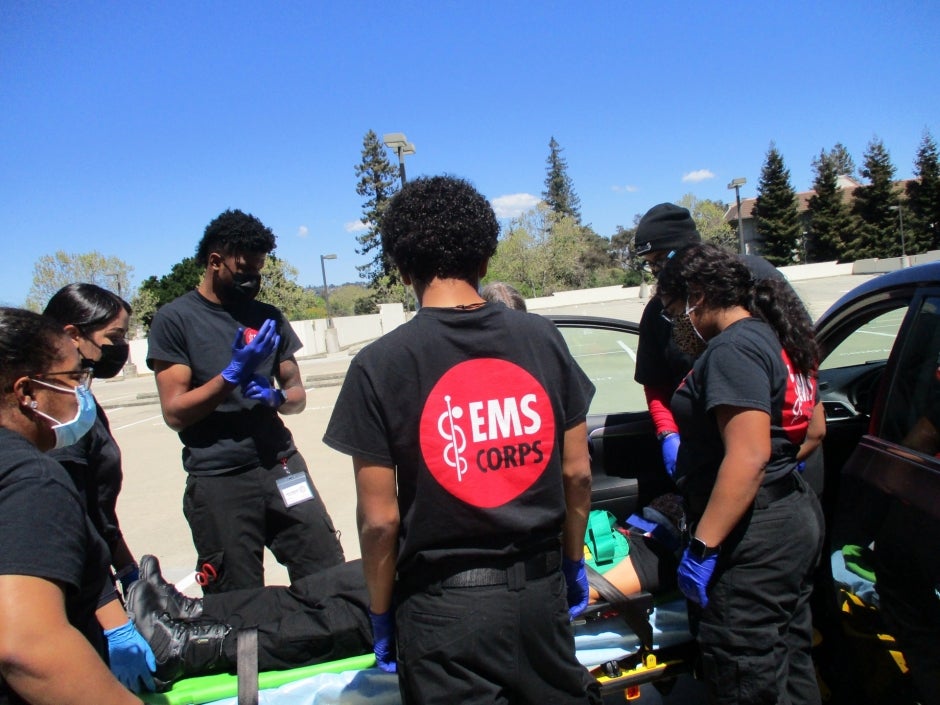 The Emergency Medical Services Corps program of Alameda County is partnering with San Mateo County Health to provide a 5-month full-time training program with supportive youth development services to encourage diverse members of the community, including underrepresented groups, people with barriers to employment, and people with lived experience similar to underserved populations in San Mateo County, to become an Emergency Medical Technician. The academy also provides supportive services such as mentorship and job performance coaching to address specific socio-economic barriers to training and employment experienced by underserved communities.
Participants who successfully complete the program will gain access to entry-level positions in the health care and emergency medical services fields that can grow into thriving careers. Program participants will receive a $5,000 student grant to complete the training.  This nationally recognized program is renowned for its transformational impact and feedback from local students is very positive.  Please click here for a link to the application. The deadline to apply is June 30, 2021 at 11:59pm PST, however we encourage you to apply ASAP as applications are accepted on a rolling basis due to the popularity of this program.
Program Requirements:
High School Diploma or GED
Young Adults 18 – 26 years of age
Able to meet the EMT background guidelines (Please see State of California EMS Authority EMT Background Guidelines provided in the EMS Corps Application)
Course Timeline:
EMS Corps is a rigorous 5-month program. The schedule is still being determined but is likely to run from August 2021 – December 2021. We will confirm this as soon as the timeline is finalized.
For more information on the program, you can visit the EMS Corps website and see the FAQ's document below. If you have additional questions please contact Erika Rincon, via email at ewhitcomb@smcgov.org or phone at 650-573-2935.